Explore Our Satellite Brewing Systems
Perfect For Coffee

On-Demand

In

High Volume

Settings.
Gemini GEMSIF
G3 Single 1.5 Gallon IntelliFresh® Coffee Brewer
The Curtis Gemini is a drip coffee system that brews into a 1.5 gallon dispenser that can be used as a satellite server. The double-wall insulated server can function with or without a heated satellite docking station, which keeps the coffee hot for serving, while freeing up the brewer to make additional batches of coffee.
The one-touch preset brew buttons can be programmed with a range of brewing specifications, including pulse brew and pre-infusion options. The satellite dispenser features a Safety-Fresh brew-through lid, and a funnel equipped with Splash Guard to prevent spills and burns. The brewer includes a hot water faucet for soup, tea, and cocoa, which can be used without affecting the brew cycle.
Satellite drip brewer systems are typically designed for high volume restaurant and institutional settings. Satellite dispensers generally have some insulation but are designed to sit on a warmer, unlike thermal dispensers.
G3 Digital Control Module - Provides precise control over all aspects of brewing in an intuitive, easy-to-read and operate system.
Pre-Set Global Recipes at the Touch of a Single Button – No complex equipment required.
Coffee maintains its rich, full-bodied flavorin double wall insulated servers.
Brew through lid keeps heat and flavor in.
Warmers can be set on high, medium or lowto preserve peak flavor.
Standard faucet clearance for cup or decanter service.
Satellite safety lids protect against accidental spills.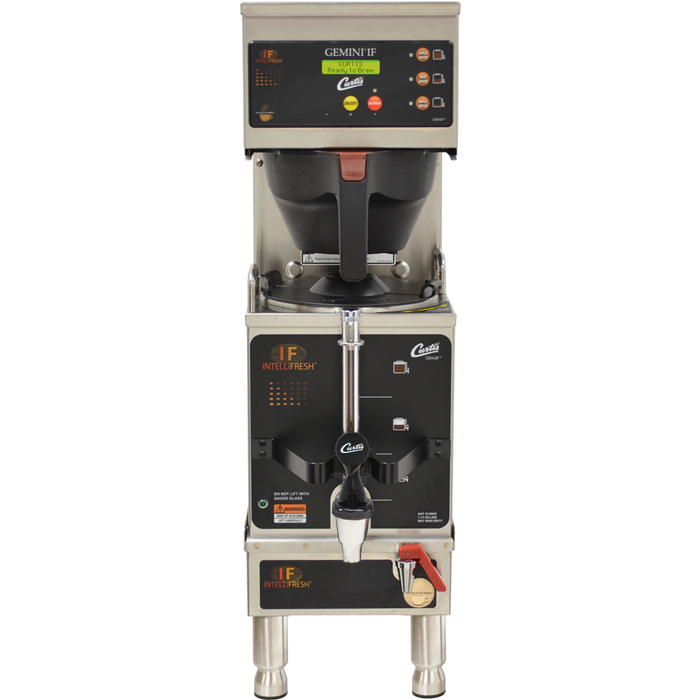 Machine Details
---
Gemini GEMTIF
G3 Twin 1.5 Gallon IntelliFresh® Coffee Brewer
Brew the Perfect Cup Now. Serve the Perfect Cup Later. Brew and hold your coffee at the perfect temperature for as long as you want.
IntelliFresh® remembers so you don't have to. Once you press Brew, your pre-programmed freshness requirements and desired warming temperature is automatically set. IntelliFresh® Satellite Servers are smart. They remember these settings — not only while at the brewer, but at the remote serving stand too. The exclusive design envelops the satellite vessel with gentle, digital controlled warmth, so the last cup you serve will always taste as fresh as the first. The Gold Cup Series™ Gemini® IntelliFresh® proves that high-end brewing systems don't have to be costly and complex to serve perfect coffee.
INTELLIFRESH® Technology – Continuously monitors and holds temperature by gently adding heat to preserve coffee flavor.
LED notification of freshness timing.
Gold Cup Series™ – Digital control module provides precise control over all aspects of brewing: time, temperature, volume, plus specialty coffee needs from preinfusion to pulse- brewing to water bypass.
Pre-set, one-touch Global Recipes – Based on coffee type, grind and weight. Simplifies profile setting for gourmet results every time.
Industry's most effective mineral tolerant design. Patented fast-wetting AFS Srayhead Non-immersed water temperature sensor
Encapsulated Control Board – Protects against steam, water and impact.
Field selectable for 0.5, 1 or 1/5 gal. batch brewing.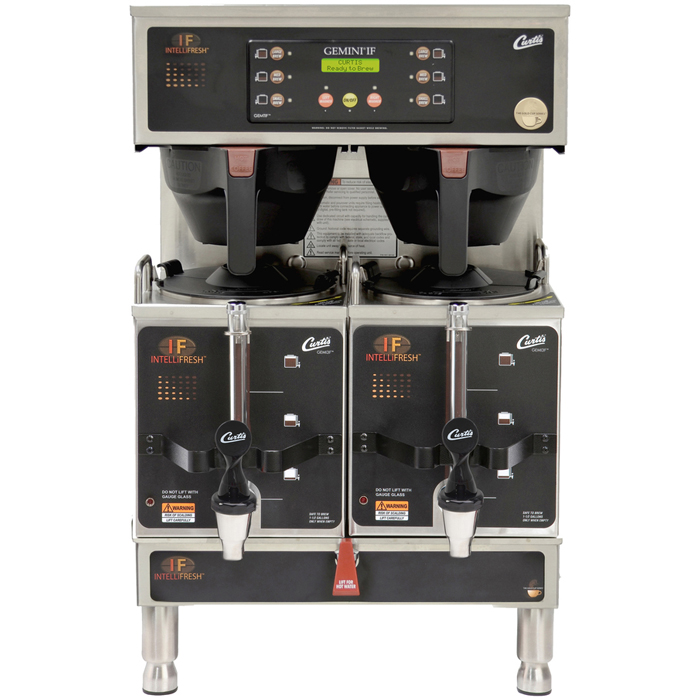 Machine Details
---
Brewmatic Satellite Series Brewers
Reliable, Heavy-Duty Satellite Brewers
The Brewmatic satellite brewers feature a heavy duty design brewer for restaurant table service, coffee shop, a hotel lobby, or even a convenience store.
Brewmatic satellite coffee brewers have attractive looks, convenience and simplicity built into the unit.
The Brewmatic coffee brewer come standard with the following features:
Automatically brews 1/2 brew or full brew (25 or 50 cups) into 2 gallon satellite container.
Unique, separate heating and tank systems eliminate down time.
Allows satellite coffee containers that can easily be removed for service in a remote location.
Adjustable water bypass on each brewing head assures the highest quality coffee even in soft water regions.
Hot water faucet can be used while unit is operating without affecting the brewing cycle.
Brew light indicates when system is ready to brew.
Heavy gauge stainless steel construction.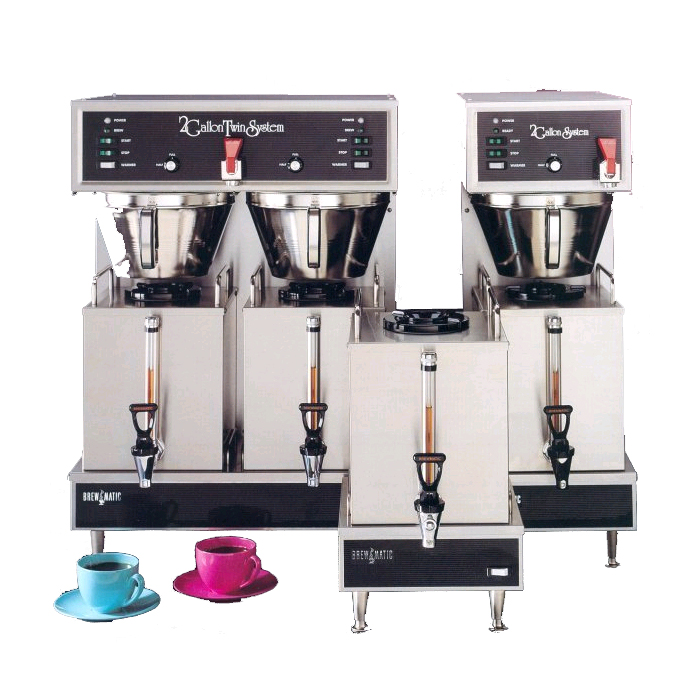 Machine Details 2 Gallon Single
Machine Details 2 Gallon Double
---