Explore Our Cappuccino, Ice & Specialty Machines
For your small to large office, restaurant or convenience store.
Bunn Fresh Mix
Dispenser with 3 Hoppers
The Bunn Fresh Mix cappuccino, espresso, and cafe latte dispenser has a colorful, lighted cafe themed display and three, 4 lb. hoppers. The generalized display graphic and dual hoppers give you the freedom to serve hot chocolate, cappuccino, or any other combination of powdered hot beverages at the same time.
The cappuccino / espresso machine dispenser's variable speed hopper motors give you complete control over the ratio of powdered mix to hot water inside the mixing chambers, so you can adjust for different types of products.
The Bunn FMD-3 Fresh Mix cappuccino machine / espresso machine cafe latte dispenser features a large hot water reservoir that provides a serving capacity of up to 5.2 gallons per hour. Its translucent, easy-to-fill hoppers ensure quick and timely refilling as needed. Adjustable legs and a drip tray can be configured to accommodate up to 7" tall cups.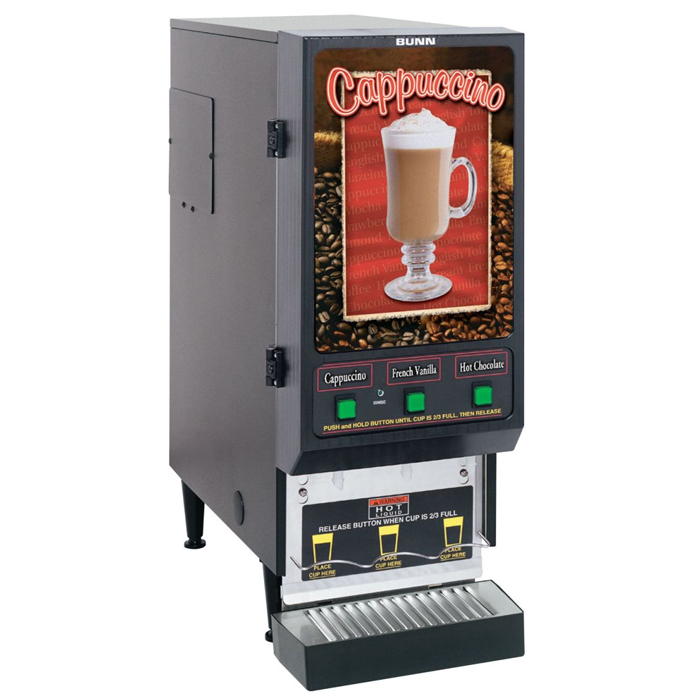 Machine Details
Dimensions: H 30.0" x W 11.3" x D 23.3"
Weight: 84.365 lbs
Beverages: CappuccinoHot ChocolateLatte
Electrical: 120 Volts, 15 amps, 1,800 Watts
---
Grindmaster-Cecilware Cappuccino Dispenser GB6M10-LD-U
Dispenser with 6 Hoppers and an Iluminated Front
Attract customers with the appealing aroma and delicious, warm taste of creamy coffee with the Cecilware GB6M10-LD-U Destination series powdered cappuccino dispenser! This six hopper unit can deliver an array of different beverage flavors, making it great for operator or self-serve use at your convenience store, snack bar, cafe, hotel, and more. Customers will love having a variety of flavors to choose from!
One, 10 lb. hopper and five, 5 lb. hoppers
6 gallon tank capacity
Fast Flow: Dispenses beverages 30% faster, reducing wear & tear on major dispenser components
Vacuum Steam Removal System: Ensures the powdered mix remains dry to eliminate clogging, caking and bridging
Moisture & Powder Collection Tray: Prevents excess moisture & product powder from reaching the vacuum motor.
Direct Drive Auger System: Ensures perfect hopper alignment & "silent running".
Power Whip: Carefully whips the product into a delicious, creamy drink.
Self Cleaning: Rinse system is touch button easy & rinses the entire whipper chamber with hot water at the end of each cycle.
Quick Change Transparency: Simply lift up 2 tabs and pull out the graphic.
FAST Service: Front Access Saves Time, allows access to major components through the front of the dispenser.
Slanted Whipper Chamber: Provides optimal mixing of product & keeps it flowing away from the motor seal.
Smartsense: Monitors cappuccino powder level, alerts operators when product hopper needs to be refilled, shuts off dispense mechanism on empty flavor hopper, and re-engages when hopper is refilled.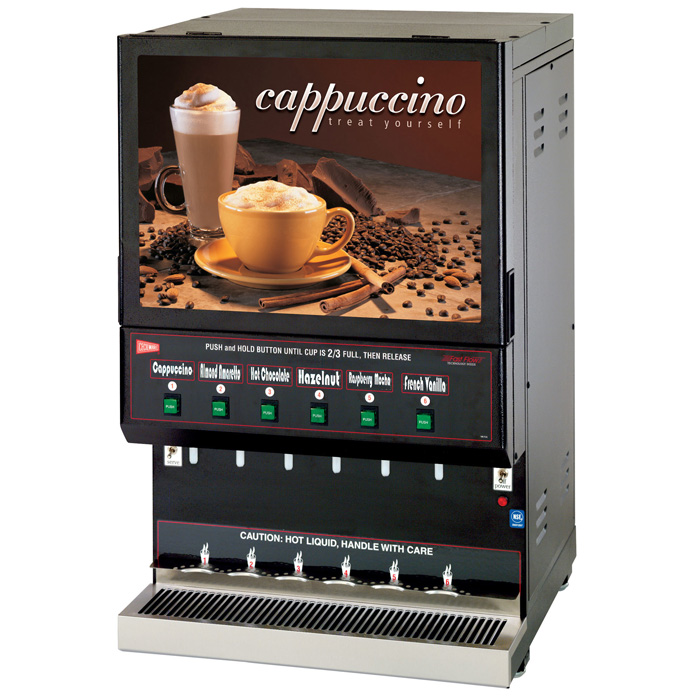 Machine Details
---
Bloomfield Karma 9456
Triple Powdered Cappuccino Machine with Triple 3 lb Hoppers
Now you can automatically serve delicious whipped and frothed cups of cappuccino, espresso, hot chocolate or a variety of hot or cold post-mix powdered beverages that keep customers coming back for more. Bloomfield's automatic post-mix dispensers have individual whipping systems for each product hopper to allow product variety without the possibility of flavor "cross-over."
The Karma has a slim, compact design is only 9 3/4" wide for those tight counter spaces. Awo position drip tray allows for a variety of cup shapes and sizes. Serves a large variety of post-mix products including cappuccino, coffee flavored drinks, hot or cold cider and hot chocolate. Dual magnetic latches on access door for fast, easy refilling of the hoppers. Standard high volume 8 quart hot water reservoir and three 3lb capacity hoppers, make this machine perfect to high volume environments. For continuous flow operation, just hold the selection button until the proper drink size is delivered.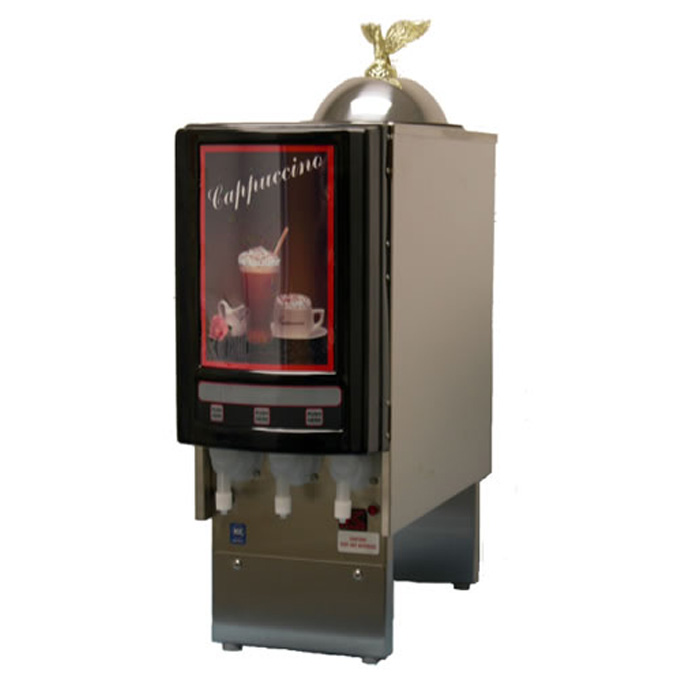 Machine Details
Dimensions: 9 3/4" Wide x 22 1/2" Deep x 32" High
Weight: 84.365 lbs
Electrical: 120 Volts, 12.5 amps, 1,500 Watts
---
Grindmaster-Cecilware FrigoGranita Dispenser NHT-UL
Twin 2 1/2 Gallon Pourover Granita Dispenser
Introducing Cecilware's new line of granita dispensers with the unique Suction Cup Compression Seal System. This Non-Magnetic Drive System uses a suction cup style diaphragm to act as a barrier between the granita product and vital gear motors, preventing product leaking into the inner components of the dispenser. Compared to other Non-Magnetic Drive Systems, the "NHT" or No Hassle Technology dispenser offers superior value and high quality. A 1/2 hp motor allows this unit to offer balanced freezing and speedy recovery, while dual augers keep the product surface level and free of ice blocks.
Cecilware's Visual Merchandiser has large clear bowls to help merchandise and sells= the Granita product. The easily removable lid is reversible for behind the counter selling.
The NHT-UL features an Adjustable Slush Mode, which allows you to set the slush consistency of the Granita drink. In addition to selling Granita products, the Cool Beverage Mode gives you the ability, at the push of a button, to sell refreshing cold beverages as well. Perfect for dispensing Fruit Punch, Iced Cappuccino, Lemonade and more. Thermostatically adjustable for proper temperature.
Suction Cup Compression Seal System - Operating with one piece inner auger, a suction cup style diaphragm acts as a barrier between the granita product and vital gear motors. Prevents product leakage and down time.
Freeze Up Monitoring System - By working with the compressor, this monitoring systems prevents granita products with low Brix or sugar content, from turning into a brick of ice and burning out the auger motor. This system adds longevity to the dispenser.
300 Series Stainless Steel Auger Shaft - Using only top of the line components, the auger shaft is constructed of stainless steel and will not rust.
24 Hour Programmable Defrost Timer - Simply set the timer to defrost any product, keeping it chilled at approximately 40 degrees, and automatically turning back to the frozen mode at any specified time. This feature decreases down time and maximizes sales. Also this eliminates product freezing and high maintenance cost.
Dual Surface Freezing Chamber - The Granita's dual surface freezing chamber freezes product quickly and efficiently.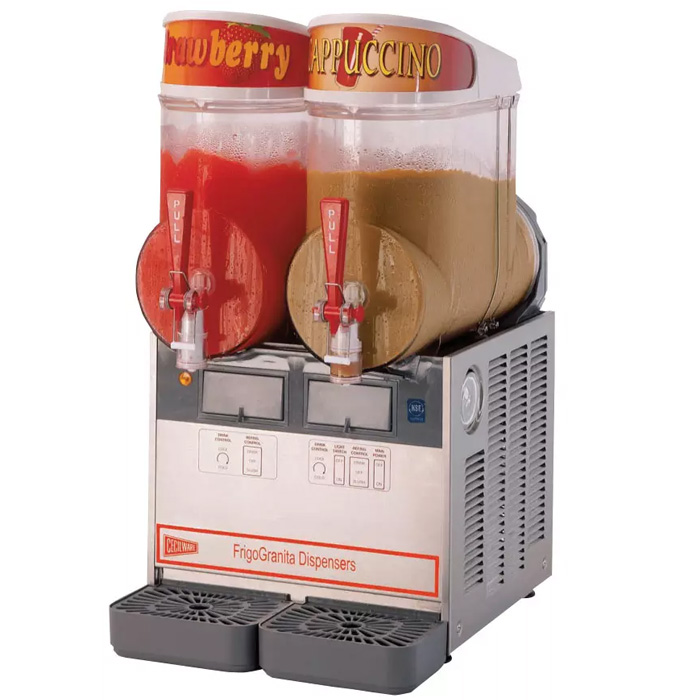 Machine Details
---