Explore Our Single Cup K-Cup Brewing Systems
For the ultimate in convenience and portability.
Uniserve™ Commercial Grade Brewer
Never Wait for Another Cup Again!
The Uniserve Brewer™ has been purpose-built to work with all K-cup® compatible coffee brands, giving our customers the freedom to choose. High heat and bar pressure designed to extract the most from your coffee, provides an enhanced taste and overall experience. With a large 65 oz external reservoir and a hot tank flow capacity of 4.3 gallons per hour, the whole office should never be without their favorite hot beverage.
Enjoy steaming hot beverages at the touch of a button - with an under 45 second recovery time to optimal temperature, keep your cup full of your favorite K-Cup® compatible beverage!
Brew 10, 6-ounce cups, before easily refilling the removable water reservoir. Direct plumbed-in capability also available.
The Uniserve Brewer™ premium hot water pump is built to last for years, keeps our commercial grade, serviceable brewer running consistently.
Works with ALL brands of K-Cup compatible pods including Keurig® version 2.0
Commercial Grade
Brews 4 different cup sizes: 6, 8, 10 or 12 oz
Large 65 ounce reservoir - make 10 cups of coffee before refilling
Automatic version available - plumb to a water source
Small footprint - fits almost anywhere
Removable drip tray
Energy saving mode to shut the machine off when not in use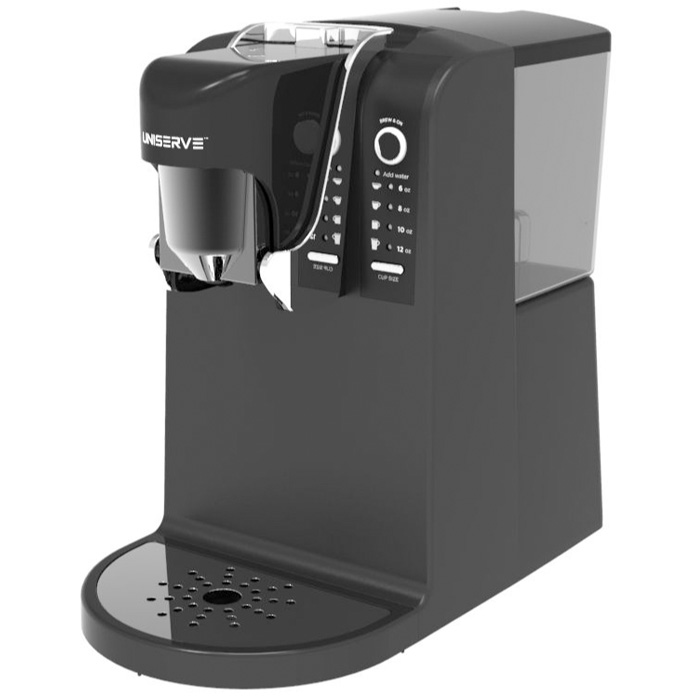 Machine Details
Dimensions: H 11.8" x W 7.5" x D 12.6"
Weight: 6.6 lbs
Beverages: K-Cup Beverages
Electrical: 120 Volts, 11 amps, 1300 watts
---
Bunn My Cafe™ MCR Automatic Brewer
Works with all cartridges that work in your Keurig® brewer
A fantastic option for offices, hotel rooms and other small operations, the Bunn MCR My Cafe™ single serve commercial brewer is engineered to achieve ideal brewing temperatures and features a unique extraction process to deliver great results every time! This machine has two default dispense portions of 6 and 8 oz., and can easily be adjusted between 4 and 16 oz. for excellent versatility.
The unit's water inlet valve kit eliminates the need for the constant refilling of water reservoirs associated with most single serve machines, but it also has a 90 oz. water reservoir with a large opening for simple filling if you need to use the machine as a pourover in a pinch.
Compact size - only 15.5" (39.4cm) tall and requires less than 9" (22.cm) of counter space
Designed to be compliant with ADA self-service requirements
Engineered to achieve industry-recognized brewing temperatures and to utilize a unique water jet extraction process, delivering quality results in the cup for a variety of single serve cartridges
Two default dispense sizes - 6oz and 8oz (117.4mL and 236.6mL)
Dispense sizes from 4 to 16oz (118-473mL); adjustable in .25 increments
Energy Saver Mode reduces tank temperature during idle periods
Ideal for office and small business environments
Removable, dishwasher-safe 90oz (2.7L) water reservoir with large fill opening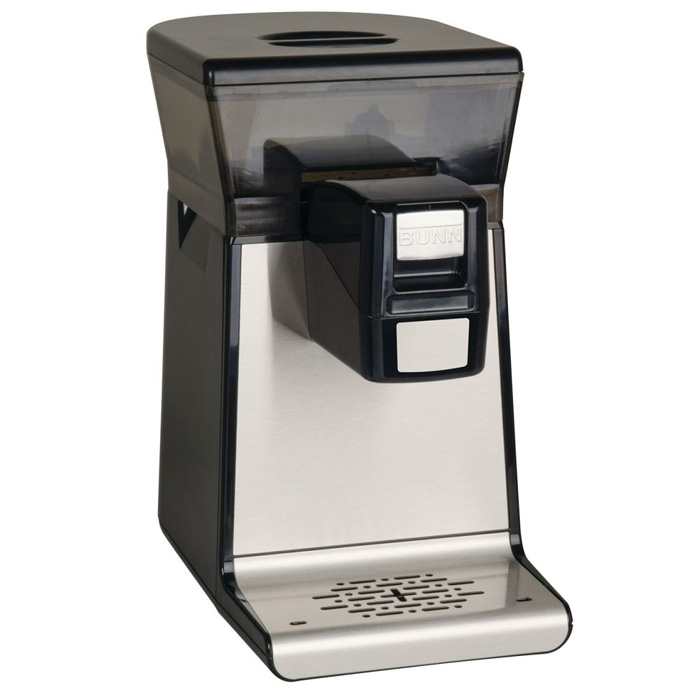 Machine Details
Dimensions: H 15.5" x W 8.8" x D 16.0"
Weight: 18.16 lbs
Beverages: K-Cup Beverages
Electrical: 120 Volts, 12.25 amps, 1470 watts
---
Bunn My Cafe™ MCO Automatic Brewer
K-Cup Brewer For Higher Volumes
Dispense 4 to 16 oz. beverages with the Bunn My Cafe™ MCO single serve cartridge automatic brewer. Ideal for offices and small business environments, this brewer features a touchscreen interface that allows you to choose brew setting for coffee, tea, cocoa, or hot water. Each beverage types offers three brewing sizes, offering great flexibility. A built-in flip tray accommodates a variety of cup and mug sizes, while an automatic cartridge ejector and automatic water refill keeps your brewer ready to dispense at a moment's notice. This machine utilizes a unique water jet extraction process to deliver proper brewing temperatures and a quality cup with each use and features an energy-saver mode that reduces tank temperature during idle periods to cut down on operation costs.
Automatic ejection of brewed cartidges
Customizable brew settings for beverages
Internal waste storage for 25+ cartridges
Separate hot water dispenser
Three adjustable brew sizes per beverage
Automatic water refill
Flip tray to accommodate wide range of cup sizes and travel mugs
Touch screen interface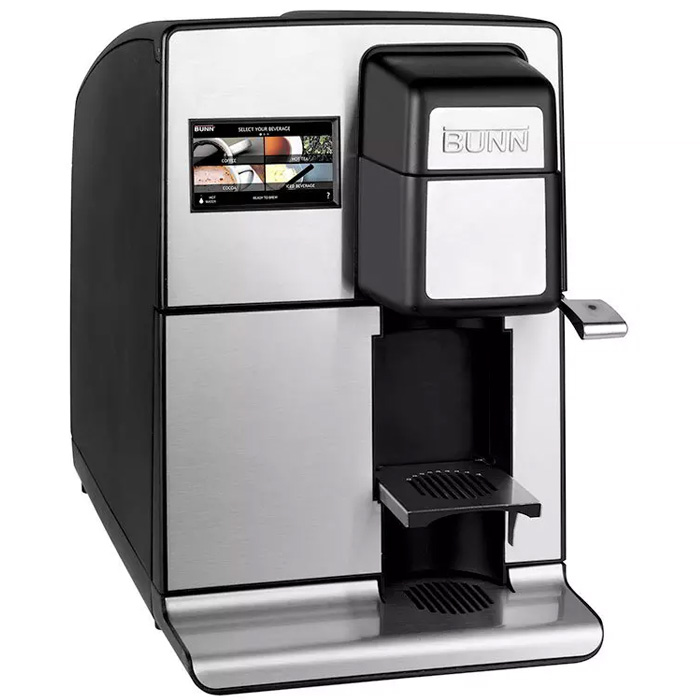 Machine Details
Dimensions: H 20.6" x W 16.8" x D 11.7"
Weight: 34.7 lbs
Beverages: K-Cup Beverages
Electrical: 120 Volts, 12.25 amps, 1470 watts
---